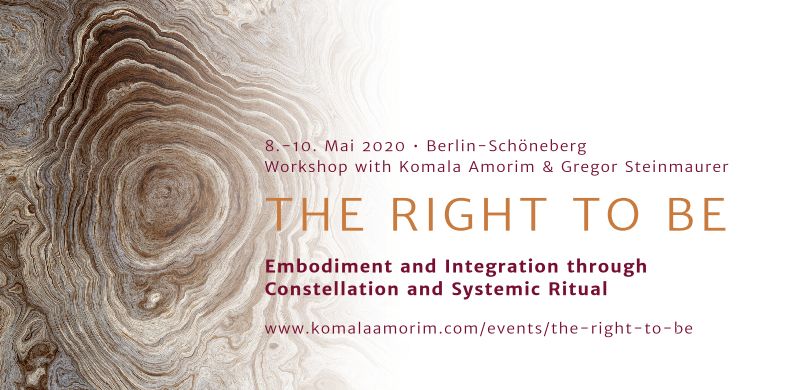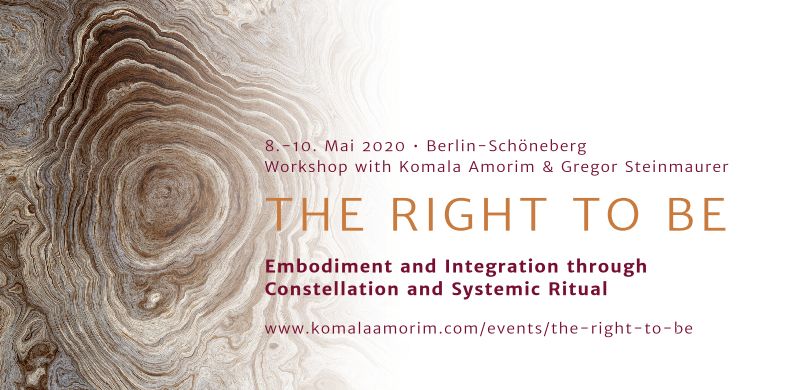 The right to Be – Embodiment and Integration through Constellation and Systemic Ritual

In this weekend we offer an embodied experience of relating with the energy of the ancestors, through Constellation work, Systemic Rituals, Meditation, Prayer and Sharing.
We will move through different layers of our ancestral field, focusing on meeting the resourcing, supportive and healthy elements present in our ancestors. We reconnect with the strength and wisdom that has been present in the past, opening spaces for healing traumatic and incomplete energies - in the ancestral field and in current life situations.
The workshop includes movement, voice expression and group rituals and you can bring in life questions and actual issues regarding family, work, health, relationships, sexuality, etc.
Every participant has space to engage and be part of the process, whether through a constellation, by representing, participating in the rituals or through witnessing the process.
Infos and Registration:
Date: 30.10 - 1.11 2020, Friday 6.30pm until Sunday 5pm
Place: TBA soon!
Seminar fee: early bird price: 190€, normal price: 220€
Registration and organization: Anne Vollborn, a.vollborn@gmail.com, +49 176 25430843
Seminar will be held in English. All details for payment and cancellation policy, you will receive after registration via e-mail. Registration is only binding after your initial payment.
Facilitation: Komala Amorim (Brazil) & Gregor Steinmaurer (Austria)
Are a married couple, live in Austria and work internationally with workshops and long trainings on integral development, conscious sexuality & relationships, and embodied spirituality.
The workshop "The Right to Be" comes from their shared practices on Systemic Constellation work and Systemic Ritual® and SE® (Trauma Healing) in combination with a variety of therapeutic methods and practice of different spiritual traditions, Psychotherapy, Bodywork and meditation.
integralbeing.at
komalaamorim.com
Additional information for the workshop "The right to be"
Our Ancestors (starting with our parents) are the gates through which we enter life, and receive energy for our own life journey. The same way a tree is receiving nourishment through its roots, we receive energy through our ancestors. The tree then is able to grow into something new and beautiful, and so are we able to become who we really want to be as individuals.
The way we experience this connection to the roots of our family lineage is an important factor in the way we have access to vitality, creativity, freedom and a deep sense of meaning in life.
The connection to our family line can be easy and open, and we feel the support of our ancestors in our life. This connection can also be difficult, disconnected or neglected, similarly creating symptoms in the way we experience life.
In this work we will create a much deeper understanding of one´s own relationship to parents and the larger field of ancestors, and how to turn this into a connection of support and encouragement.
However difficult or easy the family system at first might look, there is a fundamental connection to life that can be regained just by bringing awareness and understanding to the process.
For this we will need also to bring a clearer understanding of the Adult Self and the Child Self in oneself to this process. It´s the Adult now that can reflect – through protecting & supporting the child – and engage in a new way with the Ancestors, in order to create a sustainable change in the relationship with family and origin.
In the workshop we will use a resource-based approach to emphasize the capacity to really enter life, finding one´s own right place right now in life. Creating the ability to live a life that at same time honors where I come from (my Ancestors) and also supports the unique drive of my life to blossom and fully manifest.
The work we will engage in is based on a unique combination of different schools of work. It´s rooted in the understanding of systemic family therapy, systemic constellation, Systemic Rituals, trauma therapy and combines this with the latest research in the field of neuroscience, attachment theory and the knowledge of childhood development.
We will be supported through a very resource-oriented approach to healing, using the knowledge of the mystical principles that views ancestors as lines of energy, and therefore lines of connectedness to life itself.
We will use constellations as well as systemic rituals and the power of the whole group to open a space for healing and re-connection.